Announcing Miroslav Philharmonik 2

The new orchestra with legendary soul is now available for preorder
Miroslav Philharmonik™ 2
is the next-generation of the most emotionally expressive orchestral collection for Mac/PC. Made in conjunction with master musician and jazz legend
Miroslav Vitous
, it comes with over 1,000 new sounds that include soaring strings, animated woodwinds and majestic brass in both solo and ensemble forms. In total, it offers a remarkable 55GB+ content library with over 2,500 instruments sampled in stunning high-resolution audio with multiple articulations plus over 30 professional quality effects, 3 powerful playback engines, a synthesizer section, a built-in mixer and a whole lot more. Miroslav Philharmonik 2 is fully compatible with IK's SampleTank 3 sound and groove workstation and can be used as a standalone orchestral composition powerhouse, or as a an additional add-on instrument library in SampleTank 3.
Simply beautiful sound
Miroslav Philharmonik 2
builds on the core library of its predecessor with over 1,000 new instruments recorded in the ensemble strings, solo strings, ensemble brass, solo brass, ensemble woodwinds and solo woodwind categories. Its sounds have been meticulously voiced and edited by hand with the same sampling techniques that made the original Miroslav Philharmonik one of the most popular and emotionally expressive orchestral workstations of all time.
Listen to Audio Demos
.
Each of these new
sounds
has been recorded at the Czech National Symphony Orchestra, a space that's been used by such legendary figures as Andrea Bocelli, Ennio Morricone, Lalo Schifrin and, of course, Miroslav Vitous himself.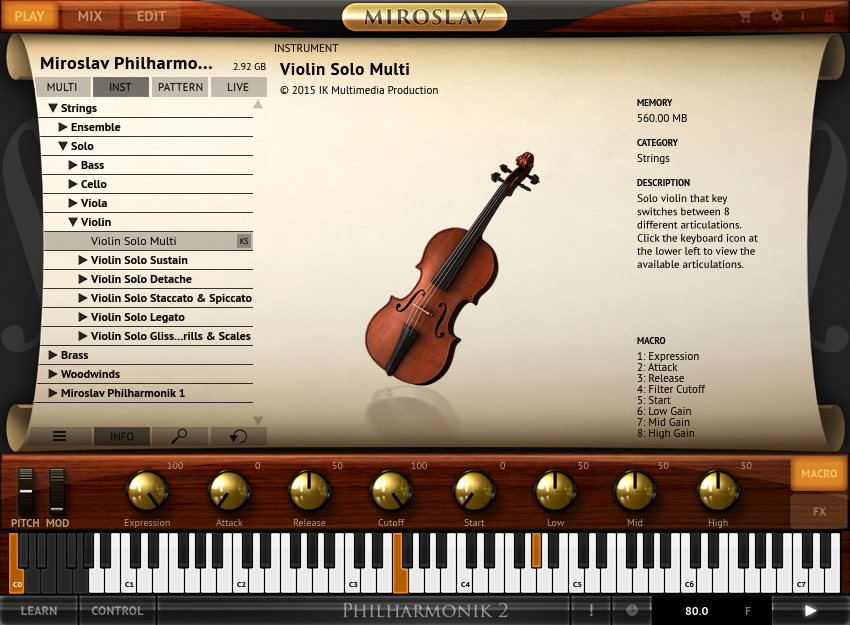 Ecstasy. Passion. Joy.
Miroslav Philharmonik 2's
instruments and sounds
are able to convey the emotion and humanity of the musician behind each note. This makes it a perfect choice for when a more delicate or expressive touch is required: Like when scoring tragic love stories, recording romantic R&B ballads or adding symphonic grandeur to gothic metal anthems.
Every new sound includes its own articulations that can be accessed either via a convenient key switching system that lets musicians instantly play flowing legatos, animated pizzicatos, aggressive spiccatos, elegant staccatos, triumphant fortissimos and more. All articulations are also available as individual instruments.
In addition to the new sounds, Miroslav Philharmonik 2 also comes with an updated library of instruments from the original Miroslav Philharmonik. These classic instruments have been enhanced to take advantage of the new SampleTank 3 technology powering Miroslav Philharmonik 2. This provides more possibilities for sonic sculpting than ever before: All instruments now come with 8 macro controls (as opposed to 4) that control features like a 3-band EQ, a filter cutoff and envelope parameters like attack and release that are perfect for on-the-fly adjustments.
Powerful processing
Miroslav Philharmonik 2 includes over 30 professional-grade studio plug-in effects from IK Multimedia's acclaimed SampleTank 3 sound and groove workstation. These effects encompass the full range of the sonic spectrum and include equalizers, dynamic processors, filters, modulation effects, reverbs, delays and more. It also includes 4 of the best analog-modeled mastering effects from IK's acclaimed T-RackS mixing and mastering suite for complete, in-the-box mixing.
Beyond these effects, Miroslav Philharmonik 2 also comes with an updated ConvoRoom convolution reverb unit that now sports a new virtual room that displays the physical space acoustically represented.
With such a collection of effects, musicians can create professional, broadcast-quality productions straight inside Miroslav Philharmonik 2 itself with no additional processing required!
Play. Mix. Edit: Advanced control
Miroslav Philharmonik 2 uses the same
Play, Mix and Edit
pages as SampleTank 3. These pages give musicians an extreme amount of intuitive creative control over Miroslav Philharmonik 2's orchestral sounds. It comes with an easy-to-use instrument browser, a 16-part DAW-style mixer with per-channel effect slots and global send/return and a powerful synthesizer section with 3 sample playback engines and 10 high-quality filters. With the synthesizer, musicians can quickly and easily transform a simple trumpet into a massive synth lead or a mighty brass ensemble into a dreamy pad - Miroslav Philharmonik 2 literally lets composers explore the furthest reaches of their creative minds.
Seamless integration
Miroslav Philharmonik 2 is based on SampleTank 3 technology. This means that it can be used on its own as a standalone instrument or as an additional library inside of the SampleTank 3 sound and groove workstation.
Pricing and availability
Miroslav Philharmonik 2 will be available in December, 2015. Miroslav Philharmonik 2 can be purchased as a direct digital download from the IK store or select music retailers worldwide, or as a boxed version with a USB flash drive. It is currently available for
pre-order
at special, limited-time introductory pricing via the IK online store and from select music retailers in a number of different options:
Current owners of Miroslav Philharmonik can preorder the
upgrade
for as low as $/€199.99* for direct download or $/€229.99 for a boxed copy.
Users with qualifying IK software can get preorder
crossgrade
pricing for as low as $/€299.99 for a direct download or $/€329.99 for a boxed copy.
New users can preorder Miroslav Philharmonik 2 for as low as $/€399.99 for a direct download or $/€429.99 for a boxed copy. Miroslav Philharmonik 2 will have a retail price of $499.99 ($529.99 for the boxed version). Upgrade and crossgrade pricing will also be available.
*all prices excluding taxes