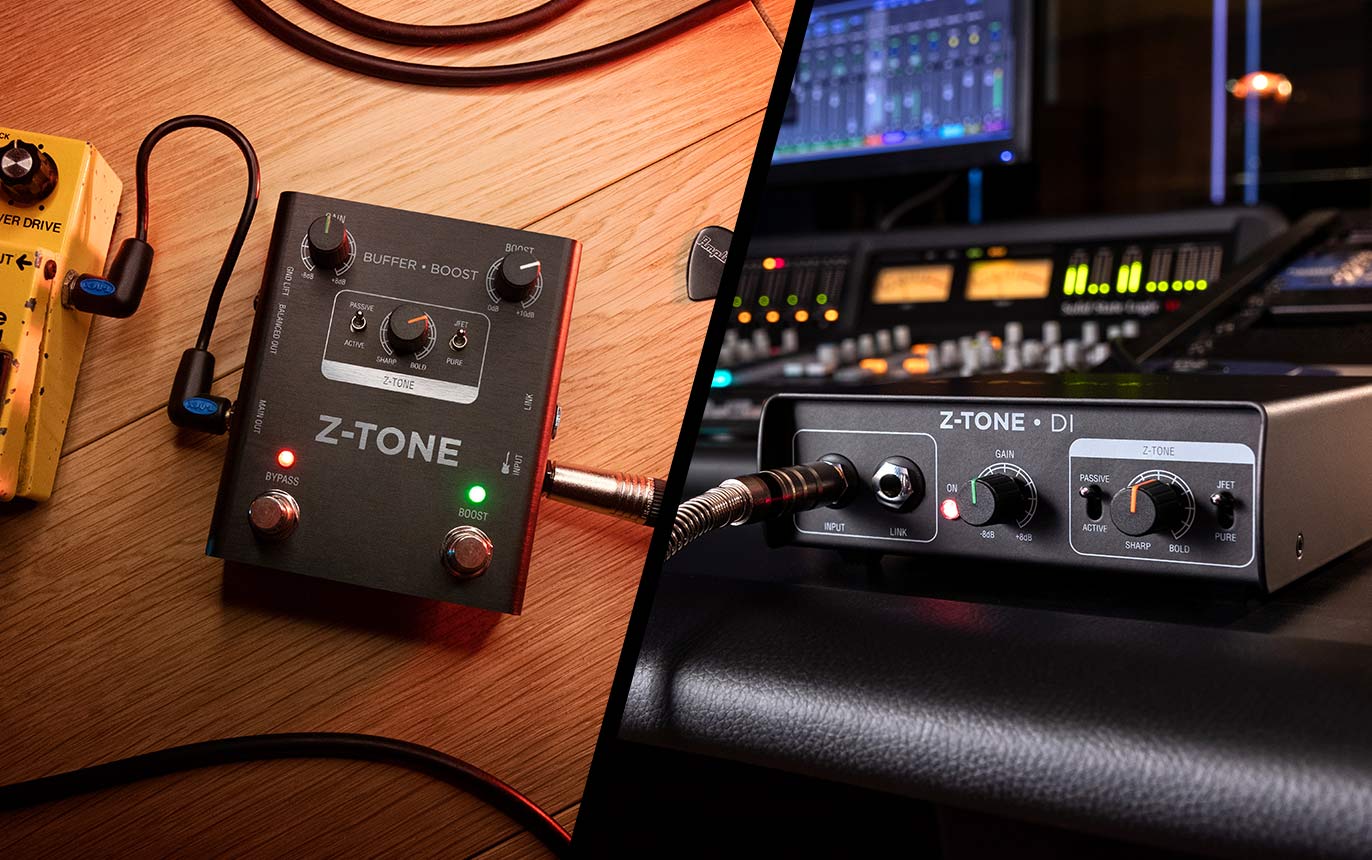 Recording and performance solutions featuring onboard tone-shaping options are now available.
Our Z-TONE technology expands from our AXE I/O hi-end guitar interface to everyone with
Z-TONE Buffer Boost
pedal and
Z-TONE DI
active direct box - available now!
Both offer a unique active/passive pickup selector switch to ensure the ideal gain staging for any instrument; switchable PURE and JFET input circuits to adjust from pristine, transparent sound to added warmth and harmonics; and IK's patented Z-TONE variable impedance control for powerful new ways to shape an instrument's sound and feel.
Z-TONE Buffer Boost
This guitar/bass preamp/DI pedal adds Z-TONE tone shaping to any player's pedalboard or stage rig. Now users can adjust the feel and tone of their instrument directly by adjusting the input impedance of their preamp pedal before hitting the rest of their pedalboard.
Z-TONE Buffer Boost
also offers premium sound, with a best-in-class dynamic range and extended frequency response, delivering superior performance as an instrument preamp.
Z-TONE DI
This studio-quality active DI box lets users add Z-TONE tone shaping to line-level sources like mixers and interfaces, making it ideal for use both in the studio and on stage. Like Z-TONE Buffer Boost,
Z-TONE DI
offers a best-in-class dynamic range for ultra-quiet operation and a wide, extended frequency response that won't cut off an instrument's natural range. It features adjustable input and output gain, a balanced Main output with ground lift to eliminate buzz or hum, plus an unbalanced out for flexibility and a -20dB pad for an extended operating range.
Z-TONE Buffer Boost and Z-TONE DI are currently available from the IK Multimedia online store and from IK authorized dealers worldwide.
Z-TONE Buffer Boost
: $/€169.99*
Z-TONE DI
: $/€149.99*
*prices excluding taxes