EZ Voice now available on Google Play
Sing along with any song and sound like a pro with EZ Voice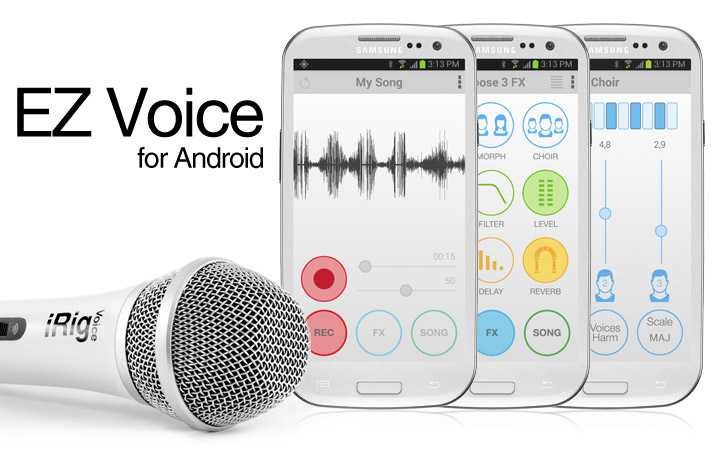 Use
EZ Voice
to practice, perform and record vocals using the music in your mobile device's music library. Just pick a song from your library and let EZ Voice do the rest — its intuitive controls make it easy to remove original vocals, tune your voice and add fun vocal effects. Share your favorite performances with your friends and fans. It's the easy way to sound great and sing along with your favorite music anytime, anywhere. For the best performance, use the IK range of microphones, like
iRig Voice
,
iRig Mic
,
iRig Mic Cast
, or
iRig Pre
.
Your Favorite Song, Your Way
Sing your heart out and record your performance with the REC interface. Import a song, hit "No Voice" to remove the original vocals and then tap the record button — now it's your turn in the spotlight. Afterwards, check the preview and head to the FX menu.
Use Vocal Effects the Pros Use
EZ Voice lets you have fun while you perfect your tone. You can select up to 3 simultaneous audio effects of its 9 included high-quality effects: Use Tune to keep your voice in key like the pros; add Morph to try a different gender; apply Choir to add extra voices and harmonies; or try more traditional effects like Reverb, Delay, Chorus, EQ, Filter, and Level — all derived from IK Multimedia's award-winning professional audio software. One tap adds an effect, two taps lets you edit. Save your favorite combinations and settings to the preset library.
Sing it and Share it
Quickly manage your saved performances with the SONG menu. EZ Voice does all the organizing for you, letting you compare, evaluate and modify your previously recorded takes with ease — you can even duplicate songs to take full-advantage of EZ Voice's many vocal effects. Save your work, and when you're satisfied, share your performances with your friends and fans via email or SoundCloud.
Download EZ Voice for free on your
Android
device.