Get T-RackS 5 Deluxe or MAX free with select iLoud monitors and ARC 3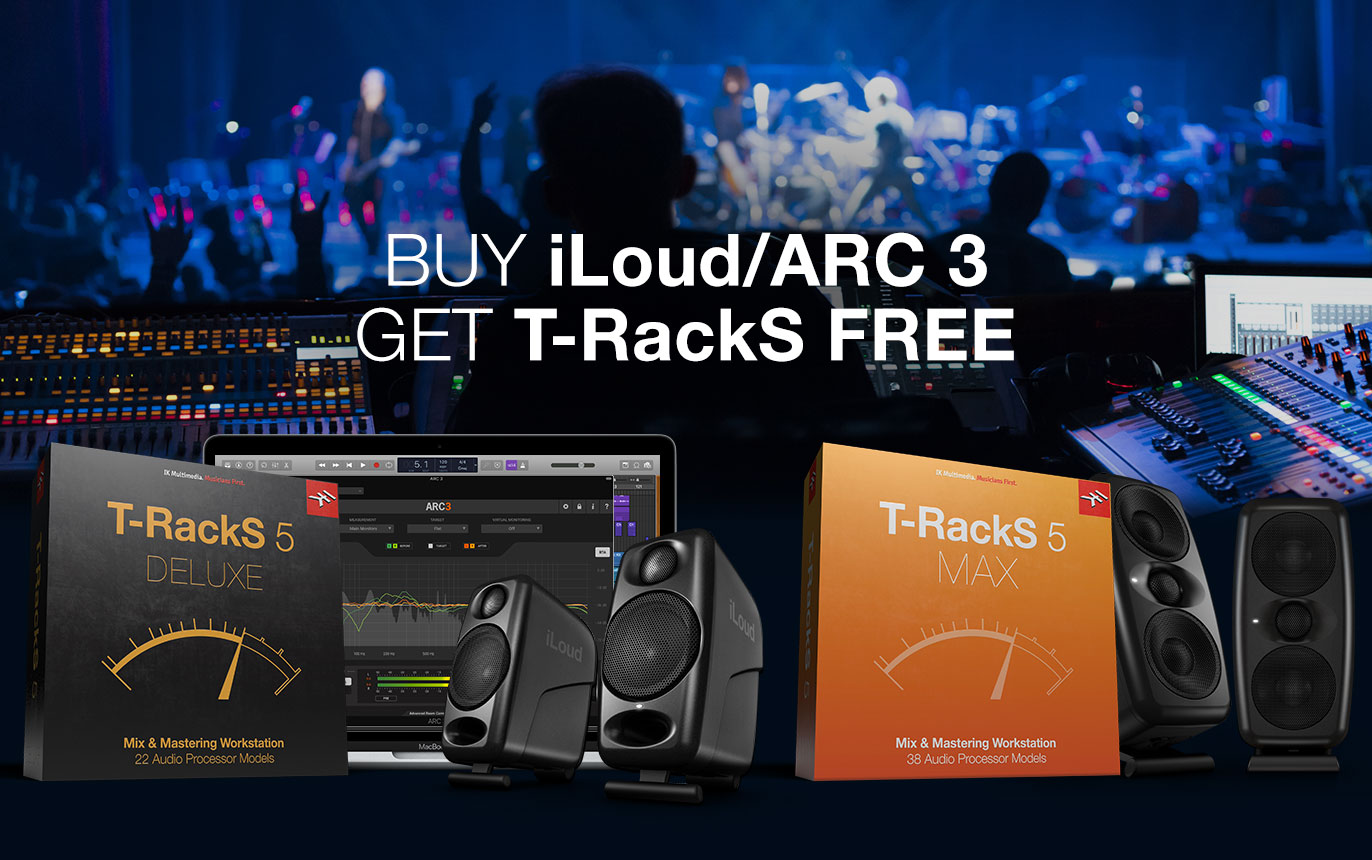 Through July 31, IK is offering T-RackS 5 free with the purchase of select iLoud monitors and ARC System 3. That's a savings of up to $499.99!
With proper gear and preparation, you can mix and produce broadcast-ready audio anywhere, even on the move. This means being able to make the most of your listening environment and having the right monitors and production tools. IK has you covered for all three of these.
Choose any of the products below and (for all your processing needs) we'll give you either
T-RackS 5 Deluxe
(a $299.99 value) or
T-RackS 5 MAX
(a $499.99 value).
ARC System 3
combines an ultra-accurate measurement microphone, analysis software and correction plug-in to improve the accuracy of your monitoring in any room. Work faster and more freely, confident you're hearing your music itself and that your music will sound great everywhere.
Get ARC 3
iLoud Micro Monitors
help you hear the truth in your music anytime and everywhere. The smallest active studio reference monitoring system in the world, iLoud Micro Monitor provides you with ultra-accurate true linear frequency response with no coloration, and does so in every listening environment.
Get iLoud MICRO
iLoud MTM
studio monitors extend the low end to rival that of 5", 6" and even 8" monitors with built-in acoustic self-calibration to dramatically improve your mixing decisions. Using the most advanced DSP techniques to provide total control over the speakers' performance, MTMs offer results simply not obtainable with traditional analog designs. Includes an ARC reference mic.
Get iLoud MTM
Make your move on a great deal. [b]Visit IK's online store* or your favorite IK dealer today
for our Mix on the Move specials. Promo ends July 31.[/b]
Discounted IK Music Software:
ARC System 3
-
$/€249.99
- Free T-RackS 5 Deluxe
ARC System 3 crossgrade
-
$/€149.99
- Free T-RackS 5 Deluxe
iLoud Micro Monitor (black)
-
$/€299.99
- Free T-RackS 5 Deluxe
iLoud Micro Monitor (white)
-
$/€299.99
- Free T-RackS 5 Deluxe
iLoud MTM (single, black)
-
$/€349.99
- Free T-RackS 5 MAX with pair
iLoud MTM (single, white)
-
$/€349.99
- Free T-RackS 5 MAX with pair
*JamPoints accepted at the IK online store
Although IK strives to provide accurate product and pricing information, unintentional pricing or typographical errors may occur. Prices do not include taxes/VAT. IK reserves the right to correct, change or update information such as pricing, availability and product descriptions, at any time without notice. Promotion valid through July 31, 2021.