There is a topic like this for SampleTank 3 in the SampleTank section, so I think it makes sense to have a T-RackS 4 topic here . . .
SUGGESTION: Super Advanced Custom Echo Processor VST Plug-in
Being a huge fan of echo units, I would like to see a superbly designed, super advanced custom echo processor VST plug-in, and I think that T-RackS 4 is a
logical product
category for it, since I use a lot of echo stuff when producing and mixing . . .
I know that AmpliTube 3 has some very nice echo units, but they are presented using electric guitar effects pedal metaphors, which is not so stellar for the ways I use echo for other instruments and voices, and it also tends to have have a singular focus rather than a more advanced, highly customized, multiple echo focus . . .
I like the EchoPlex concept, which more recently is available in the Fulltone Tube Tape Echo, and I like the Roland Space Echo concept, which is available as a BOSS effects pedal, but there are other advanced echo units, and I think that there should be a way to use the best concepts and ideas from a lot of different echo units to create a new super advanced custom echo unit designed specifically for a range of instruments and voices in a mixing setting where the focus is on adding special effects to already recorded material . . .
At present, I use a lot of individual and for the most part very simple echo units like the standard MOTU echo unit that comes with Digital Performer (MOTU), but instead of having everything in one central location, I have as many as five different instances of the same echo unit VST plug-in, which fills the screen and is a bit confusing with respect to getting everything adjusted to create whatever custom echo I need . . .
As an example of the types of highly advanced, custom echo effects I need, the European Single for "Who Owns My Heart" (Miley Cyrus) has a virtual festival of superb custom echoes, and I think that some of them were done in the Melodyne Editor (Celemony) but just as easily could have been done with tape units or other types of digital editing processes, since none of them are simple echoes that result from playing a sound through an echo unit . . .
"Who Owns My Heart" (Miley Cyrus) -- Official YouTube music video
Currently, if I want to do these types of custom echoes, I have to create additional tracks in Digital Performer 7.23 and then do each individual custom echo separately, which is not so practical to do when there might be as many as 50 to 100 custom echoes for a three to six minute song, which certainly is the case with "Who Owns My Heart", which has a virtual festival of exquisitely crafted custom echoes . . .
Intuitively, I like the idea of having a pasteboard that is done in measures based on the beats per minute (BPM) tempo of the song, which is a reasonably standard graphic design metaphor, especially here in the sound isolation studio where the foundation for songs is what I call a "basic rhythm section" done with iK Multimedia virtual instruments and music notation in Notion 3 (Notion Music) . . .
I can do everything in Digital Performer by copying, pasting, and editing portions of soundbites, but I think there is merit to being able to do it in an easier and more intuitive way . . .
On the other hand, simply having a nicely designed set of controls (knobs, switches, sliders, and whatever) will be a big help, and I think there is a way to design the user interface for super advanced, custom echo VST plug-in so that it makes sense from the perspective of doing custom echo production, where the focus is on being able to control and to sequence minutiae, which is one way to explain it . . .
"Sparkles" are another example of what I consider to be something that a super advanced, custom echo processor VST plug-in can do, where "sparkles" is the name I use for notes that move around within the Spherical Sonic Landscape™, and "sparkling" is the name I use for the process of putting notes into motion, which at present I do with music notation and IK Multimedia virtual instruments in Notion 3, since by spreading the notes of a single IK Multimedia virtual instrument over as many as 8 staves, each of which has a specific panning location, I can cause individual notes to be played anywhere on the rainbow panning arc that runs from far-left to top-center to far-right, as is easy to hear in this "basic rhythm section" for a new Surf Whammys song I am developing, all of which is done with music notation and IK Multimedia virtual instruments, really . . .
[
NOTE: This is mixed with headphones, and it is easier to hear the "sparkles" when you listen with studio quality headphones like the SONY MDR-7506 (a personal favorite) . . .
]
"(Baby You Were) Only Dreaming" (The Surf Whammys) -- Basic Rhythm Section -- MP3 (9.4MB, 281-kbps [VBR], approximately 4 minutes and 28 seconds)
Really!
In some respects for a custom echo unit, "sparkling" is very similar to "slicing", where a sound is "sliced" into parts and then played in different locations on the rainbow panning arc, and AmpliTube 3 has a very nice slicer and several echo units, so overall I think that IK Multimedia has all or most of the required individual components and algorithms, so it mostly is a matter of doing a bit of graphic designing, algorithm adjusting, and so forth, although I think that enhancing everything with a higher level of smarts that make working with minutiae easier certainly is important . . .
These are the echo units that I have in AmpliTube 3, and they are very nice, but they are focused primarily on a "set it and forget it" scenario for lead guitar, which is very different from doing custom echos where there typically is a specific custom echo for each word or in some instances for individual syllables, consonants, and so forth, where instead of one global setting for all the echo units, each custom echo has its own specific setting, which makes it like an "echo cafeteria" where each word is like a separate customer who selects a specific set of entrees, side dishes, drink, and desert . . .
[
NOTE: I have all the AmpliTube add-on modules and so forth, with the exception of a few of the new custom units, so some of these echo units come from the add-on modules, but so what . . .
]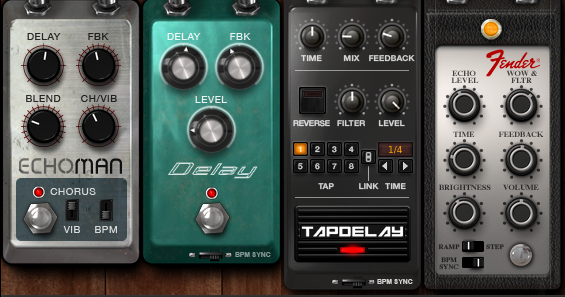 AmpliTube System Echo Units
The electric guitar effect pedal metaphor is great for electric guitar, but it is a bit too primitive and bulky for use in a vocal producing and mixing scenario, and it takes too much screen space to represent the effects pedals visually, so I certainly think there are graphic designs that will work better for doing vocal producing and mixing, where the typical user is more advanced and is accustomed to working with parameters and lots of more technically oriented stuff, which makes it more of a rack-mount graphic design than an electric guitar effects pedal graphic design . . .
Conceptually, it is an interesting thing to ponder, and I think that there is a way to do it that is more intuitive with respect to the way custom vocal echoes actually are designed, created, and applied, which is fabulous . . .
Fabulous!