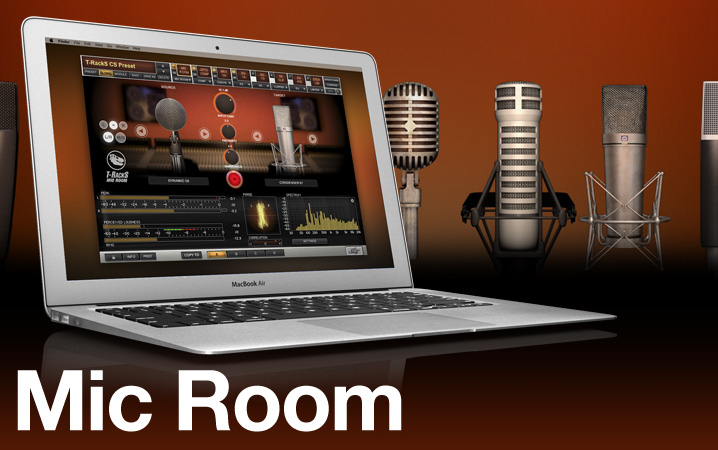 Introducing Mic Room for T-RackS

Re-mike your recordings with a virtual collection of over 20 stunning studio microphones
Mic Room
is a powerful microphone-modeling tool for
T-RackS
that puts a world-class collection of over 20 classic and contemporary microphones at your fingertips. It gives you the power to process and "re-mike" your physical microphones to sound and perform like some of the most coveted microphone models of all time from ribbons to dynamics to condensers and beyond. It also offers a plethora of inspiring tone-sculpting tools that are conveniently ready for use in your favorite DAW.
Top Sound quality
Mic Room offers an astonishing level of detail and accuracy, each of its virtual microphone models boasts the true frequency response, nuanced character and specific sound of its counterpart. That means you can tap into the harmonic complexity of tube condensers, the "in-your-face" tone of dynamics and velvety smoothness of ribbon types. You can even fuel your creativity with Mic Room's quirkier options, like tube and telephone microphones.
Endless possibilities
Mic Room lets you effortlessly change the sonic profile of recorded audio to match the signature of a chosen microphone. Want to transform a dynamic into a condenser? A condenser into a ribbon? Well, Mic Room is a T-RackS module, so you can slap it onto an individual track (either inside T-RackS or as a standalone plug-in) and then change recorded audio from vocals and miked instruments and amplifiers. Once on a track, Mic Room lets you choose the original source microphone and then a new microphone to re-mike it with, so you can harness a new level of nuance, color and tonal character.
Creative tone control
Beyond its high-fidelity sound, Mic Room also comes packed with a number of additional tone control features that have been designed to enhance your recording experience. The Proximity effect less you play with the "proximity effect" that naturally adds bass when a source is near a microphone. Dial it in for a rich and deep "FM radio vocals" sound. Or dial it down to scoop the low frequencies out. The Harmonic control effect gives you the full power and rich harmonic complexity of a tube condenser. This control lets you add saturation, character and texture to your recordings.
Plug and play
Though Mic Room for T-RackS can liven up the character of any microphone, it works best when paired with
iRig Mic Studio
,
iRig Pro DUO
,
iRig PRO
,
iRig Mic HD
,
iRig Mic
and other quality microphones and interfaces from IK Multimedia.
Pricing and availability
Mic Room is available now via the IK online store and T-RackS Custom Shop for just $/€69.99* (or just 70 Gear Credits).
*all prices excluding taxes