Vintage sampling instruments meet IK's advanced tape modeling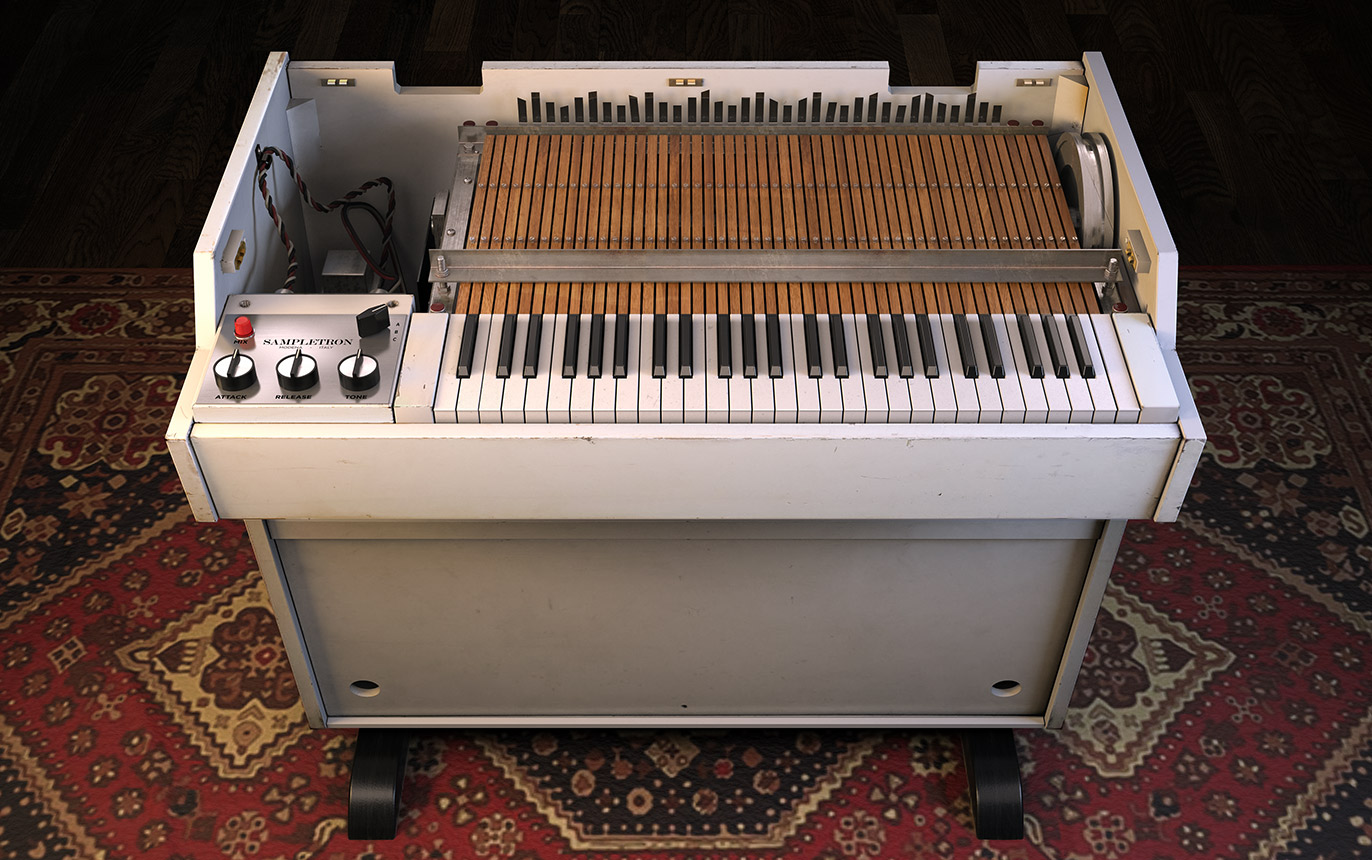 May 20, 2021
- IK Multimedia releases
SampleTron 2
, the rebirth of analog tape-based sampling. SampleTron 2 combines the powerful sound engine of IK's award-winning SampleTank 4 with IK's industry-leading tape modeling technology to recreate the distinctive, ultra-vibey sounds of tape-based samplers from the '60s and '70s, along with quirky early digital sample players and vocoders.
This comprehensive collection features deep sampling of vintage Mellotron® and Chamberlin tapes, a collection of new acoustic "non-Tron" sounds with tape processing, and now enables users to load their own samples and create modern audiophile Tron sounds that are uniquely theirs.
SampleTron 2 comes with a vast library of over 400 "tracks" that users can load into any preset—up to 3 at once—and then individually process with IK's cutting-edge tape modeling DSP for ultimate tone-shaping flexibility.
A Tron treasure trove
While an extensive collection of new, original samples of vintage Mellotron and Chamberlin are included, SampleTron 2 also shines where it processes IK's acoustic non-Tron material. Here users gain access to exciting new sounds with the choir, strings, brass, organ, piano, bass, and even synths and vocoders that all come with SampleTron 2.
IK has also added vintage digital sample-based instruments such as the Mattel Optigan, Vako Orchestron and 360 Systems Digital Keyboard to give users more creative options than any other Tron collection. And to complete the circle, included is the full content of the much-revered original IK SampleTron product to bring legacy users totally up to date.
Authentic sound and feel
In addition to sounding better than ever, SampleTron 2 looks the part with a gorgeous interface that's true to the original instruments, remaining simple and intuitive to use. All ten models are gloriously detailed and designed to give users the immersive experience of playing actual vintage gear, even to the point of exposing their inner workings, all while maintaining uniform ease of use and functionality across the board.
A complete Tron experience
All controls are intuitive to use with old-school looks that belie some ground-breaking engineering. Like the original Mellotron hardware, there are three available tracks for each preset. Only now users don't have to fudge the track selector to combine them. Any of the included tracks, or user samples, can be loaded with total control for mixing between all three to create new and unique combinations. A panel of global controls along with six tape controls let users dial in exactly the desired mood, with the precision and authenticity that only IK's tape-modeling technology can deliver.
All the right tools
To fine-tune the sound further, SampleTron 2's edit mode lets users dive deep into the preset parameters with controls for volume, pan, fine tune, transpose, and high and low note range for each Track. Additional synthesizer-style controls are available including a filter with selectable type and an AmpliTube envelope with velocity control for each track individually or all tracks combined. With SampleTron 2, anyone can truly invent their own Tron sound.
Effects like no other
SampleTron 2 includes a powerful set of effects to give each performance exactly the depth and dimension the music needs. Effects include a Channel Strip equalizer and compressor, Tape Echo, Multimod—with selectable chorus, ensemble, flanger, phaser, Uni-V and Rotary Speaker—and the new Vintage Plate Reverb that's based on the Plate algorithm developed for AmpliTube 5 and MixBox. These are great-sounding effects that leverage IK's expertise in the field, and they were chosen to complement SampleTron 2 perfectly.
Expansive versatility
SampleTron 2 works as a standalone app or as a plug-in, and it can also be used as a library in SampleTank 4.1.4 or later to expand its world of sounds. There users can make deeper edits, add more effects and play multiple instances of the 3-track SampleTron 2 presets on multiple MIDI channels.
Options, pricing and availability
SampleTron 2 is available now from the [url=/shop/]IK Multimedia online store[/url] and from
IK authorized dealers
worldwide a limited-time introductory price of $/€199.99* (reg. $/€249.99), and existing owners of any IK product $/€99.99 or more in value qualify for a reduced "crossgrade" price of $/€149.99 (reg. $/€199.99).
*All pricing excluding taxes
For more information about SampleTron 2, please visit:
www.ikmultimedia.com/sampletron2