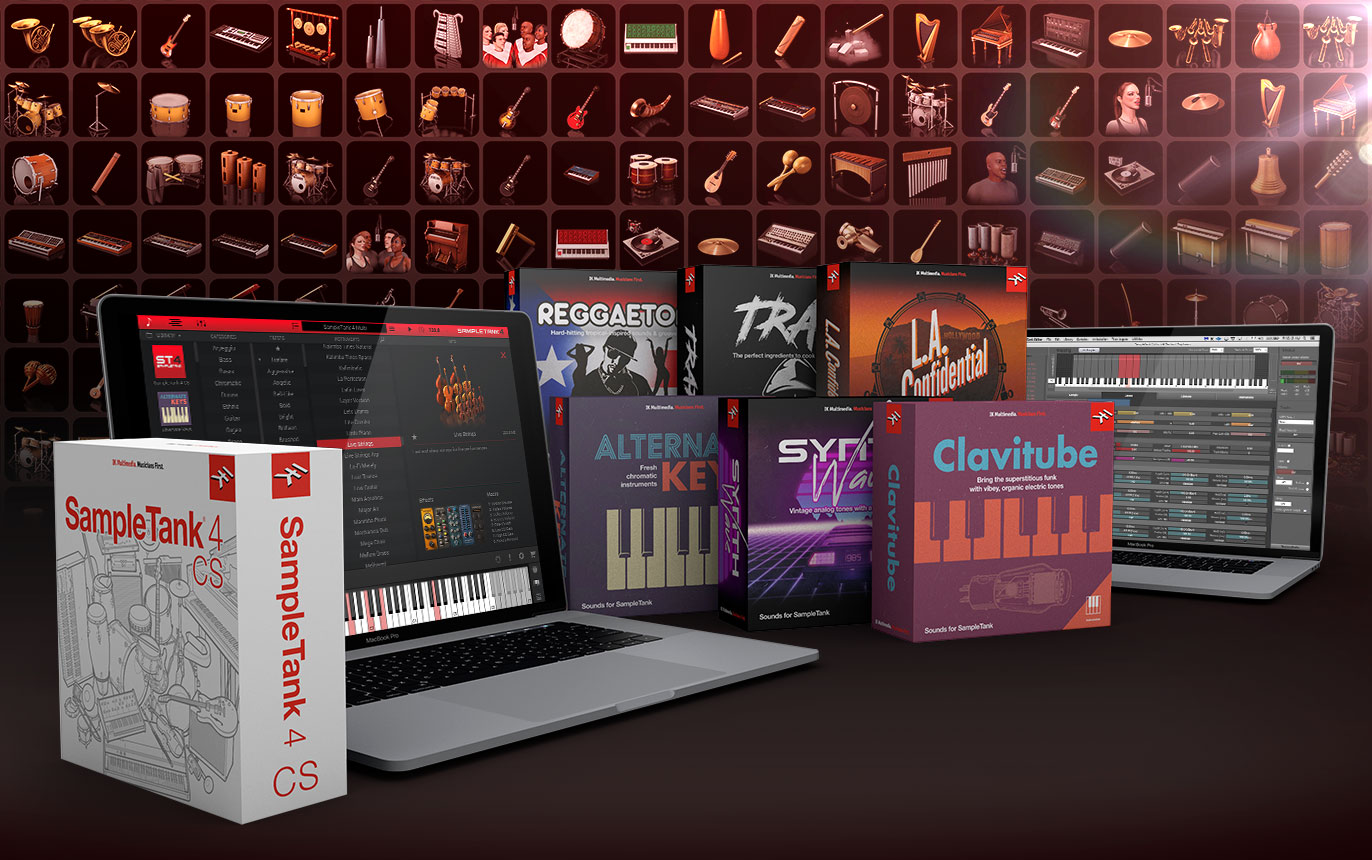 It's an exciting day for SampleTank 4!
Today we announce the release of a free SampleTank 4 Custom Shop, plus six Expansion Libraries and SampleTank Editor for our award-winning sound and groove workstation.
SampleTank 4 CS
The new
SampleTank 4 Custom Shop
is a free download that offers a powerful introduction to SampleTank 4, with more than 4 GB of professional-quality virtual instrument sounds plus editing and effects, with all features of the full software. Combining IK's award-winning sound engine with dozens of all-new Instruments and hundreds of MIDI loops, SampleTank 4 CS allows the creation of full tracks in a single plug-in, with the ability to expand as needed with additional sound libraries.
SampleTank 4 CS includes:
50 virtual instruments, with over 4 GB of sound content
Comprehensive library; expandable with additional libraries
200 MIDI grooves to build tracks quickly
Full sound engine with no features restricted
Works as a plug-in or as stand-alone software
Like all versions of SampleTank 4, it also offers a re-designed sound engine with disk streaming, four Groove Players to animate sounds, and a mixer with 70 effects, FX sends and a master bus.
SampleTank 4 CS is free to download for everyone!
Click here to get it today.
SampleTank 4 Expansion Libraries
Also available are six new virtual Instrument Collections in the SampleTank 4 Expansion Library series. They offer a wide selection of instrument types ranging from drum loops to robotic sci-fi synths, designed to inspire diverse musical styles including funk, reggaeton, pop, indie rock, and more. They include:
L.A. Confidential - grooves from L.A. session drummers
Alternate Keys - fresh chromatic instrument
Clavitube - funky, vibey, amped clavinets
Hitmaker Series Reggaeton - track-ready, tropical-inspired reggaeton sounds and grooves
Hitmaker Series Synthwave - vintage analog tones with a futuristic twist
Hitmaker Series Trap - hard-hitting sounds and grooves
SampleTank Editor
Last but not least, a new power is brought to SampleTank as you can now bring in your own sounds with the new SampleTank Editor. This is a free sample import/programming tool that can be used to create your own new SampleTank 4 Instruments and Libraries.
SampleTank Editor allows you to:
Import and auto-map samples into SampleTank format
Edit and adjust Zones and Oscillators
Import custom icons and add descriptions and tags
Export creations as SampleTank 4 Instruments and Libraries
The SampleTank Editor is available to registered users of any paid version of SampleTank 4 and can be downloaded from the IK Multimedia website.
SampleTank 4 CS
is free and available for Mac/PC via direct download. The new expansion libraries are available from the
IK Multimedia online store
and from
IK authorized dealers
worldwide.