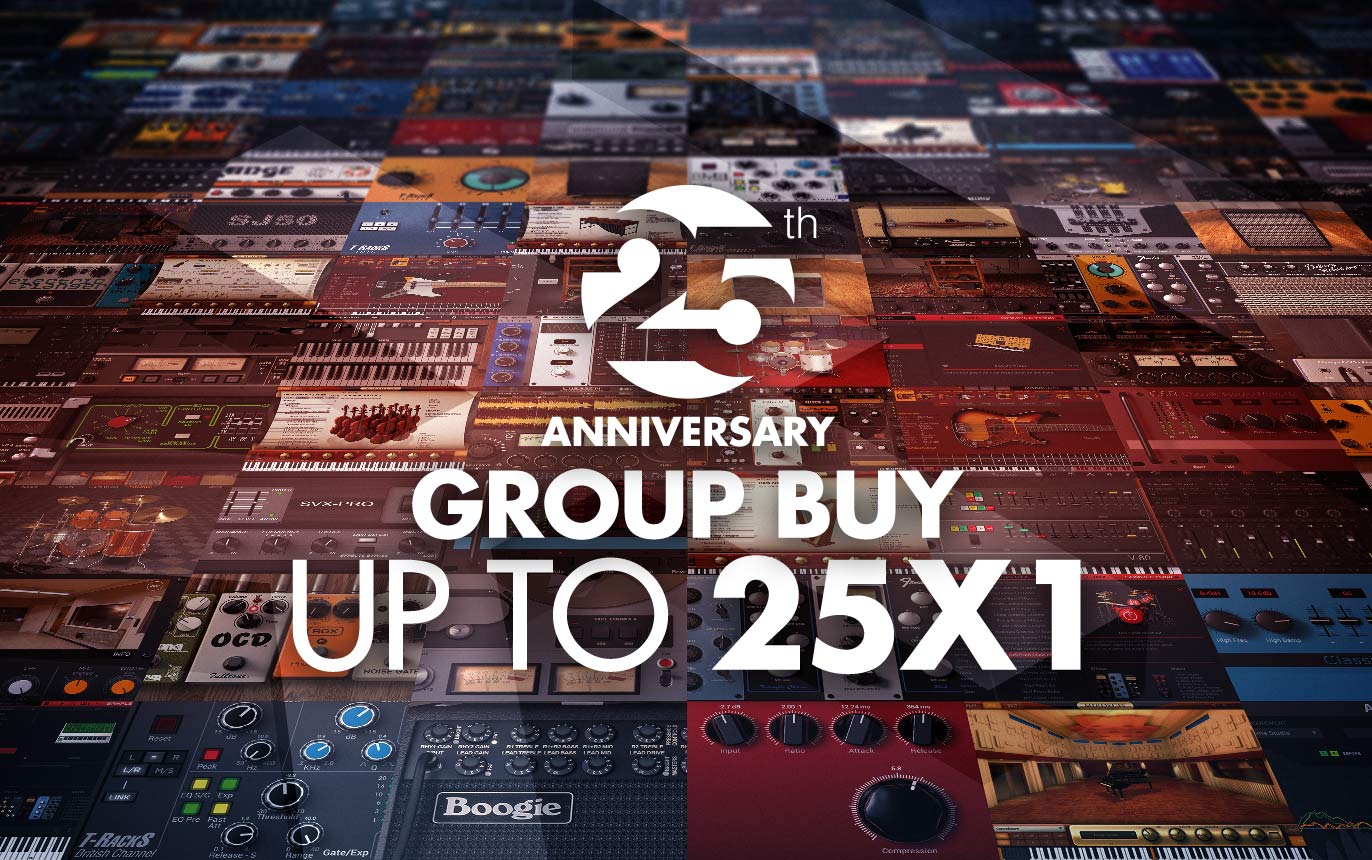 IK Multimedia is celebrating 25 years of being and putting Musicians First with a once-in-a-generation promotion.
IK's
25th Anniversary Group Buy
gives you an unbelievable way to expand your music production setup with a massive selection of popular AmpliTube Collections, studio effects processors and virtual instruments. Any time you purchase and register a qualifying product, you can choose 1 more software title of equal or lesser value for free!
Click here to check the counter and more for the 25th Anniversary Group Buy
Spread the word to grab more gear
And it gets better. Since this is our 25th Anniversary Group Buy, you can grab even more FREE gear throughout the month. Each time anyone purchases and registers a qualifying product during the promotion, the Group Buy Counter increases by 1.
Once the counter hits the next tier, another qualifying product* of equal or lesser value will be available in your User Area for FREE. The same thing will happen again each time the counter hits another tier.
That means you can get up to a total of 25 products for the price of one!
That means up to 25 products for the price of 1 for everyone!
So because more participants equals more FREE gear: start sharing, tweeting, posting and liking this incredible opportunity and spread the word to friends, fans and every music production person you know.
How the Group Buy works
Buy 1 Get 1 Free*
Buy 1 Get 2 Free* when 2,000 registrations are reached
Buy 1 Get 3 Free* when 3,000 registrations are reached
Buy 1 Get 4 Free* when 4,000 registrations are reached
Buy 1 Get 5 Free* when 5,000 registrations are reached
And so on, up to our goal of 25,000 participants, and 25 titles for the price of 1!
*Free products must be of equal or lesser value of the purchased item and chosen from the software titles listed HERE.
How to qualify for the promotion
Purchase any of the qualifying products from the IK Online Store, Custom Shop or authorized IK dealer.
Register and authorize your new product with the IK Product Manager.
Access your User Area and click on the "Promotions" link.
Click on the "25th Anniversary Group Buy" link to choose and download your free software title.
Access the 25th Anniversary Group Buy HERE - See full information, the counter of participants, how many free products you can get, and how close you are to the next one!
JamPoints ARE valid in this promotion. Qualifying software available only as Digital Download. Date of registration is decisive - The purchased product must be registered starting August 5, 2021, through August 31, 2021. The promotion applies to new purchases only. Although IK strives to provide accurate product and pricing information, unintentional pricing or typographical errors may occur. All prices from the IK online store exclude taxes and may vary by country. IK reserves the right to correct change or update information such as pricing, availability and product descriptions, at any time without notice. No substitutions for qualifying products nor the free software titles.