The all-round music creation suite for every stage of production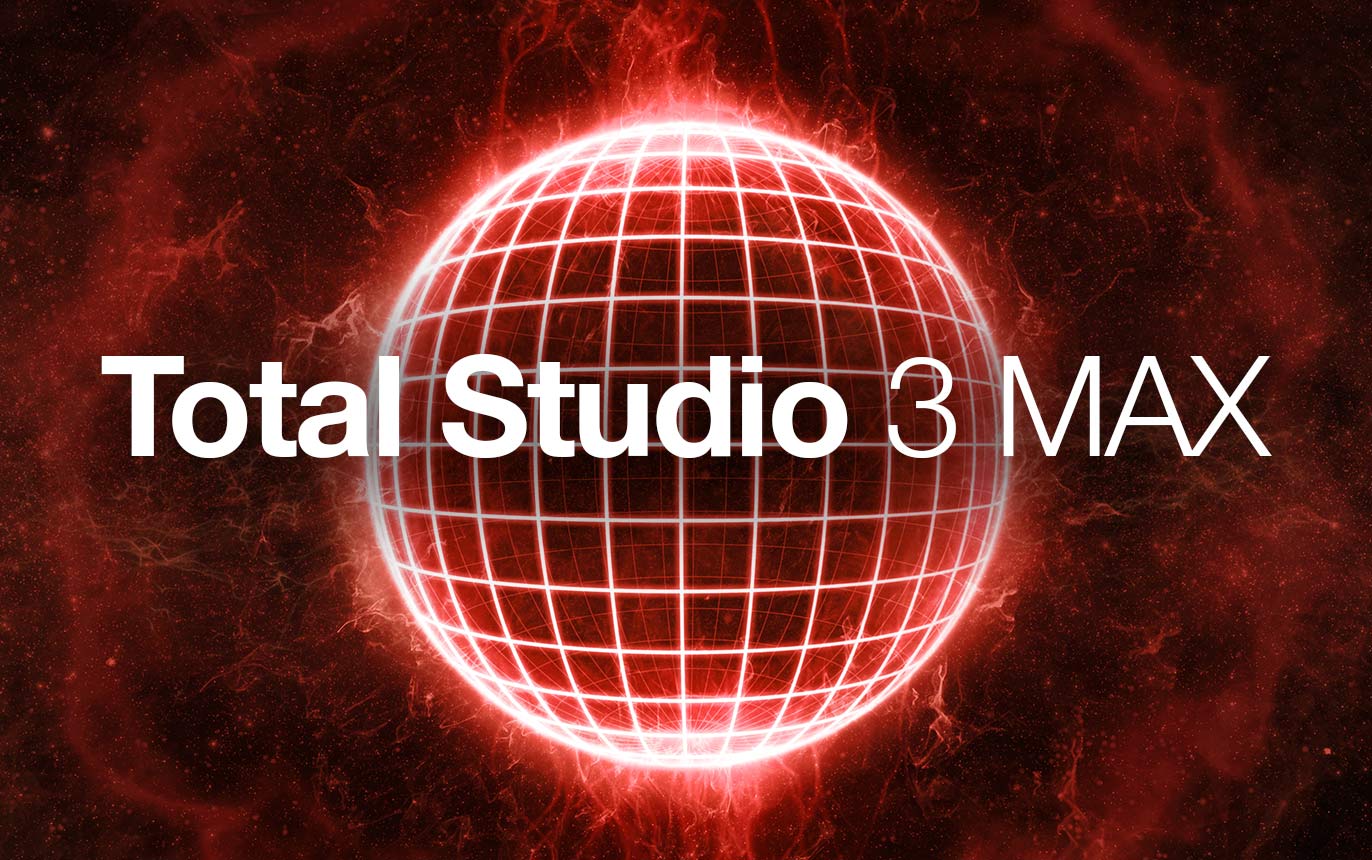 March 4, 2021 - IK Multimedia releases
Total Studio 3 MAX for Mac/PC
, the freshly updated version of their popular software suite for music creation. With
124 included products, Total Studio 3 MAX covers every stage of music production: composing, producing, designing, mixing, mastering and playing. With over 440GB of rich, authentic sounds and over 480 ultra-realistic FX
, Total Studio 3 MAX offers users a complete solution for creating music in virtually any style.
The widest range of sounds in a single package
Total Studio 3 MAX packs a massive 14,600 instruments, including IK's newest releases SampleTank 4 MAX, Hammond B-3X, and MODO DRUM, plus Syntronik Deluxe, MODO BASS and Miroslav Philharmonik 2. That's over 440 GB of sounds, from orchestral to synthesizers to organs, as well as incredibly realistic physically modeled bass and drums. There's virtually no limit to the sounds available, making Total Studio 3 MAX ideal for every genre and style.
The latest effects and design
On the effects side,
Total Studio 3 MAX
is loaded with 487 effects and processors for everything from tone tweaking to sound design to mixing and mastering. Users get AmpliTube 5 MAX, IK's flagship guitar and bass tone studio with 14 brand and artist collections, all benefiting from IK's latest breakthroughs in modeling technology.
For mixing and mastering, there's T-RackS 5 MAX with award-winning new modules like Sunset Sound Studio Reverb and the Tape Machine Collection, plus MixBox, ARC 3 and Lurssen Mastering Console. From tracking guitars to mastering albums, all the gear users need is here, looking and sounding better than ever.
Fuel for creativity
To get users going, Total Studio 3 MAX includes thousands of presets, including VIP artist and engineer presets. So, whether it's tracking a Hammond organ or mastering a pop song, instant inspiration is just a click away. Any category presets, including artist, can also serve as starting points and be saved as user presets for recall later.
Keeping it all together
Included with
Total Studio 3 MAX
is the new IK Product Manager, which automates the installation process and keeps all the IK products organized and up to date. Users can now focus on making music instead of updating software.
SE edition also available
For those on a budget, but who don't want to skimp, there's Total Studio 3 SE. This bundle includes seven applications for a total of 21 plug-ins. Users get SE versions of AmpliTube 5, MODO DRUM & MODO BASS, SampleTank 4, T-RackS 5, plus Miroslav Philharmonik CE and Lurssen Mastering Console. That's an impressive 3,936 instruments and sounds, plus 161 effects in all to get any job done.
Options, pricing and availability
Total Studio 3 SE and Total Studio 3 MAX are available now at the
IK Multimedia online store
and from
IK authorized dealers
worldwide, with pricing as follows:
Total Studio 3 SE – $/€499.99 digital download
Total Studio 3 MAX – $/€899.99 digital download, $/€949.99 with USB drive
Existing customers who have registered any IK product for $/€99 or more can upgrade at special prices:
Total Studio 3 SE crossgrade - $/€399.99 digital download
Total Studio 3 MAX crossgrade - $/€599.99 digital download, $/€649.99 with USB drive
Existing users of Total Studio 2 MAX, AmpliTube 5 MAX, SampleTank 4 MAX or T-RackS 5 MAX are eligible for a special "maxgrade" discount:
Total Studio 3 MAX maxgrade - $/€499.99 digital download, $/€549.99 with USB drive
Discounts may vary. Registered users of qualifying IK products will see a coupon automatically applied to the final price of Total Studio 3 MAX in cart and before checkout at the IK Multimedia online store.
Total Studio 3 MAX + iLoud MTM bundle
Users looking for the ultimate home or project studio can also take advantage of a bundle that includes Total Studio 3 MAX and a pair of IK's award-winning iLoud MTM studio monitors, offering reference-class monitoring in a pair of speakers designed specifically for desktop use.
With linear phase sound, point-source performance, built-in ARC acoustic self-calibration and more, the iLoud MTMs work perfectly with Total Studio 3 MAX to offer a professional solution for composing, producing, tracking, mixing and mastering, all in one affordable bundle.
Total Studio 3 MAX + iLoud MTM (pair) - $/€999.99
*All prices excluding taxes