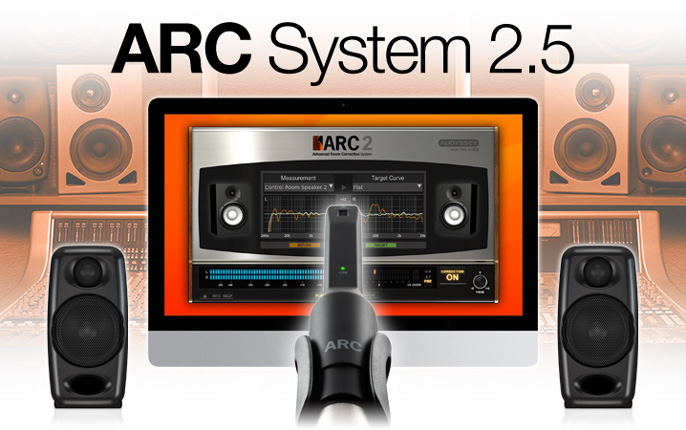 ARC System 2.5 with MEMS microphone coming soon

The advanced room correction system now featuring a new ultra-precise MEMS microphone
IK is proud to announce the new
ARC System 2.5 with MEMS microphone
, which will be available for shipping in July 2017. ARC 2.5 is the only acoustic correction system that combines a highly accurate MEMS measurement microphone, measurement software along with an audio correction plug-in to improve the sound reliability and acoustics of your studio in an elegant, low-cost portable solution.
The new ultra-accurate MEMS measurement microphone works together with the room correction software to achieve greater correction accuracy than ever before with a precision of +/- 0.5 dB, (previous ARC microphones will also be supported.) IK is the leader in MEMS technology for audio applications and manufactures the microphone in Italy with an omnidirectional type capsule that ensures maximum response accuracy and stability over time, in contrast to standard condenser measurement microphones which can exhibit frequency response variations from manufacturing or with age.
ARC System 2.5 with MEMS microphone
works by measuring your room using the included MEMS measurement microphone and measurement software and then generates an algorithm to provide a correction of your room's acoustic problems that you can apply to your mix using the included plug-in. You can record and mix with confidence knowing that what you hear from your speakers is a faithful representation of how your music will translate to the outside world.
Since 2007, IK Multimedia's ARC System has been leading the way in terms of true affordability and professional reliability. With literally thousands of users worldwide, from music enthusiasts and independent producers to studio and acoustic engineers, ARC has become an absolute industry standard that continues to amaze for its ease of use and unquestionable effectiveness.
Pricing and availability
ARC 2.5 with MEMS microphone
will be available in July 2017. Current ARC 2 users can upgrade to software version 2.5 for free (Mac/PC), for added compatibility with the new MEMS microphone model whereas ARC 1 and ARC TDM users can upgrade their software for as low as $/€ 49.99*.
Anyone who would like a new boxed version of ARC 2.5 with MEMS microphone and have previously purchased any IK product of a minimum value of $/€ 99.99* can take advantage of a special cross-grade price of only $/€ 149.99* instead of the regular pricing $/€ 199.99*
The MEMS measurement microphone can be purchased separately at $/€ 69.99*
Learn more about ARC 2.5 with MEMS microphone:
http://www.ikmultimedia.com/arc
* All prices excluding taxes. Audyssey, Audyssey MultEQ XT 32 are registered trademarks property of Audyssey Laboratories Inc. used under license.