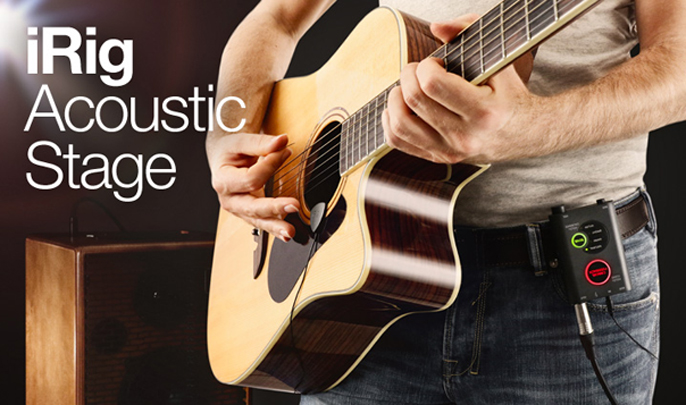 iRig Acoustic Stage
is the new hi-tech solution for accurately reproducing the full sound of acoustic guitars and other instruments with studio-quality sound live on stage and in the studio. The combination of its advanced MEMS microphone and hi-quality preamp and DSP processing unit provides — for the first time ever — a break-through solution that offers hi-quality natural sound, advanced features, ease of installation and a convenience never seen before.
Built for the Stage and Project/Home-Studio
With iRig Acoustic Stage, you get an enhanced acoustic sound that's perfect for live performances and recordings. If you have an audio interface, simply plug iRig Acoustic Stage into the analog input. No Interface? No problem! iRig Acoustic Stage also features an integrated class-compliant USB audio output for direct connection to your computer or compatible device. Now you can get that "studio" sound AND have the freedom to move around freely!
Acoustic Preamp and Built-in DSP
The magic of iRig Acoustic Stage comes from the combination of the microphone, the preamp, and the signal processing unit. iRig Acoustic Stage analyzes the incoming signal from your guitar, both the overall sound and nuance of the instrument and the playing technique and builds the optimum tone profile for the instrument. The tone profile can then be enhanced through the use of 6 selectable tone presets, depending on the playing situation. iRig Acoustic Stage gives you 3 presets for steel string instruments — natural, warm, bright — and the same 3 optimized for nylon string instruments.
Perfect for Acoustic-Electrics
iRig Acoustic Stage also features an AUX input with a volume (MIX) control. This input is designed for use with your acoustic electric's onboard piezo or magnetic pickup. You can use iRig Acoustic Stage in combination with a piezo pickup system and blend in just the right amount of microphone signal while avoiding uncontrollable harsh feedback.
USB Digital Recording Output
iRig Acoustic Stage features a class-compliant USB audio output making it perfect for direct connection to a computer or a mobile device for plug-and-play recording in any compatible DAW or recording app.
Pricing and availability
iRig Acoustic Stage is available now from the
IK Online Store
and
retailers
worldwide for only $/€99.99 (excl. taxes).