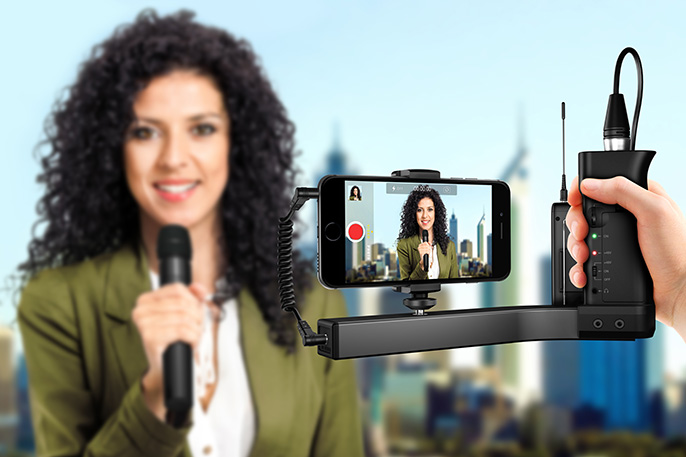 iKlip A/V — Pro-quality audio for broadcasting

Now you can capture stunning audio for your mobile videos

The solution to getting pro-quality audio for your mobile broadcasting needs is here —
iKlip A/V
is now shipping! iKlip A/V is the first smartphone broadcast mount that lets you capture and monitor professional-quality audio for your videos with its integrated XLR mic preamp with phantom power and built-in wireless receiver support. Now you can use your smartphone or compact video camera as a full-featured broadcasting solution with high-quality audio.
Exceptional audio
iKlip A/V gives you the freedom to use your smartphone or compact camera without sacrificing the quality of your audio. Powered by two AA batteries, iKlip A/V features an XLR input with 48V phantom power, allowing you to plug in your high-end condenser microphones to capture crisp superior audio. It also features a built-in support bracket that can hold most popular wireless microphone receivers. iKlip A/V is also designed for a streamlined recording experience with its input gain control, headphone monitoring output, and 1/8" TRRS audio output.
Steady and secure
Record your next video for YouTube, Vimeo or even Instagram and know your smartphone will be steady and secure with iKlip A/V. Designed for the mobile broadcaster in mind, iKlip A/V features a large ergonomic handheld grip and an expandable smartphone holding bracket that shares the same technology as our
iKlip Xpand Mini
and
iKlip Grip
for a secure grip. You can also detach the smartphone holding bracket and replace it with a compact video camera thanks to its standard camera mount. iKlip A/V can also be attached to a monopod or tripod thanks to the standard female threads on its underside, making it perfect for capturing steady videos for Facebook, Periscope, Snapchat and more!
Completely connectible
iKlip A/V is compatible with any smartphone or camera that accepts a 1/8" TRRS (CTIA/AHJ wiring standard) audio input. With an optional
iLine Camera Adapter
cable, you can connect any camera that has an auxiliary microphone TRS input!
Pricing and availability
iKlip A/V is available now from photo/video, music and electronics
retailers
worldwide, and from the
IK Online Store
, for only $/€179.99.