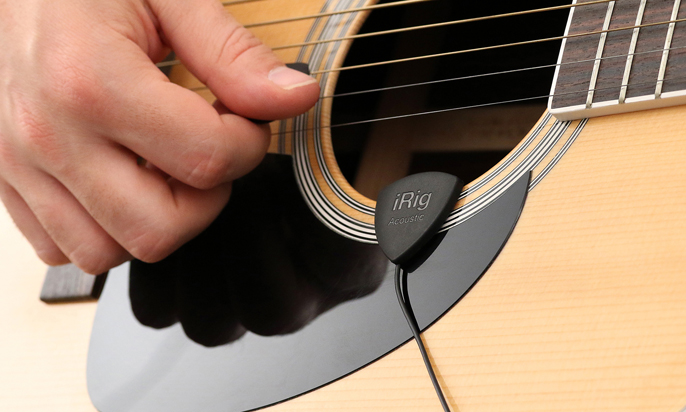 Introducing iRig Acoustic - the first acoustic guitar mobile microphone/interface

Perform and record with the portable acoustic guitar interface that rivals professional-grade studio mic setups
Today we'd like you to meet a brand new member of the iRig® family. It's called
iRig® Acoustic
, and it's the first mobile interface that's been designed to capture the depth and richness of acoustic guitars.
Next generation recording
iRig Acoustic features advanced miniature microphone technology. This new technology allows it to capture audio with a level of quality and detail that easily beats piezo and magnetic pickups. In fact, it's so good that iRig Acoustic even rivals professional-grade studio microphone setups — and it's way more portable.
Portable sound with no compromises
iRig Acoustic is small enough to slip into your pocket and can be quickly clipped (and unclipped) to the sound hole of any guitar or ukulele.
And, because of its unique design, it's able to deliver its superb sound no matter whether you're jamming in a chair or walking around on stage. It's all analog, which means that you can use it with your iPhone, iPad, iPod touch, Mac or Android device thanks to its 1/8" TRRS cable. Its female stereo output jack is perfect for headphone jamming and monitoring, and it's also great for performing on stage at open mics and other gigs.
AmpliTube goes acoustic
Along with iRig Acoustic, we'd also like you to meet
AmpliTube® Acoustic
, its powerful companion app (free version available now, full version coming soon). It's the first mobile tone studio designed specifically to meet the needs of acoustic guitar players. They pair perfectly to deliver stunning plug-and-play sound — AmpliTube Acoustic's adjust feature calibrates and optimizes iRig Acoustic, effectively capturing and reproducing the true sonic character of the guitar being played.
Get creative
And, like other AmpliTube products, AmpliTube Acoustic lets you take control of your tone in entirely new and creative ways thanks to its spread of acoustic-specific amplifiers, stompboxes and other gear. You can also expand AmpliTube Acoustic with classic AmpliTube features like Loop Drummer, UltraTuner, an 8-track recorder and more.
With iRig Acoustic and AmpliTube Acoustic, you can finally enjoy professional-grade acoustic guitar processing and recording anytime and everywhere.
Pricing and availability
iRig Acoustic is available from the
IK online store
and select music instrument
retailers
for just $/€49.99*. A free, expandable version of AmpliTube Acoustic can be downloaded from the
App Store
now. The full version is [urlhttp://www.ikmultimedia.com/products/acousticios/]coming soon[/url], and will be available for just $/€9.99. Additional amp models, effects and features are available via in-app purchase.